work chairs
Comfort and ergonomics

CEKA Belgium is an expert in ergonomic design and advice on choosing the right office chair for your needs. Various mechanisms can be tried out in our showroom. We offer various models available in stock and benefiting from "stock action" conditions. You can also configure the seats directly with an advisor on site. There are countless combinations of colours, shapes and ergonomics, so don't hesitate to make an appointment to visit our showroom or to contact us.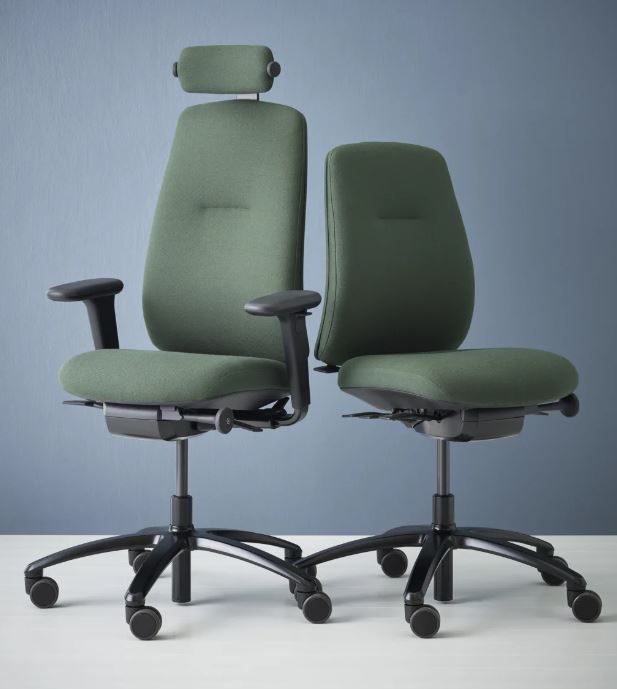 How we work depends on who we are, what we do and when we do it. But one thing that unites us is the need for well-being during long hours at the office. The improved New Logic HR is a natural choice for lasting individual comfort. By gently adapting to your body and providing essential support and relief, it helps you stay focused on getting the job done, no matter who you are, what you're doing or when you're doing it.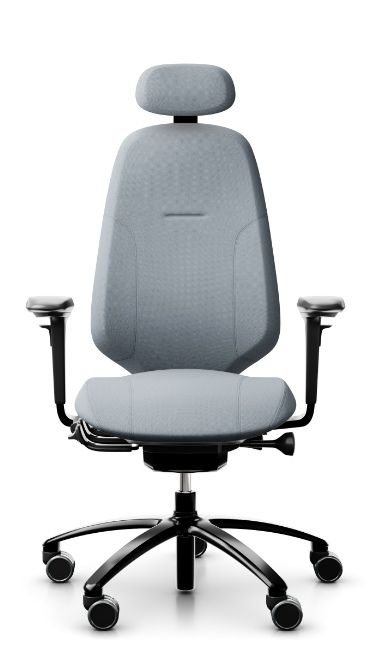 A Scandinavian sensation - designed for you Uncompromising ergonomics combined with innovation and design from every angle. RH Mereo offers active seating, better concentration and more efficient working. RH Mereo is ideal for workplaces where several people use the same office chair.



The HÅG Futu mesh 1100 has a transparent, breathable backrest that keeps your back cool with constant ventilation. It is equipped with our latest HÅG in Balance® movement mechanism, which keeps you moving continuously and balanced. The tilt resistance is adjustable and lockable, and the seat height and depth are easily adjusted. A fully functional lumbar support is available as an option, as are height and width adjustable armrests.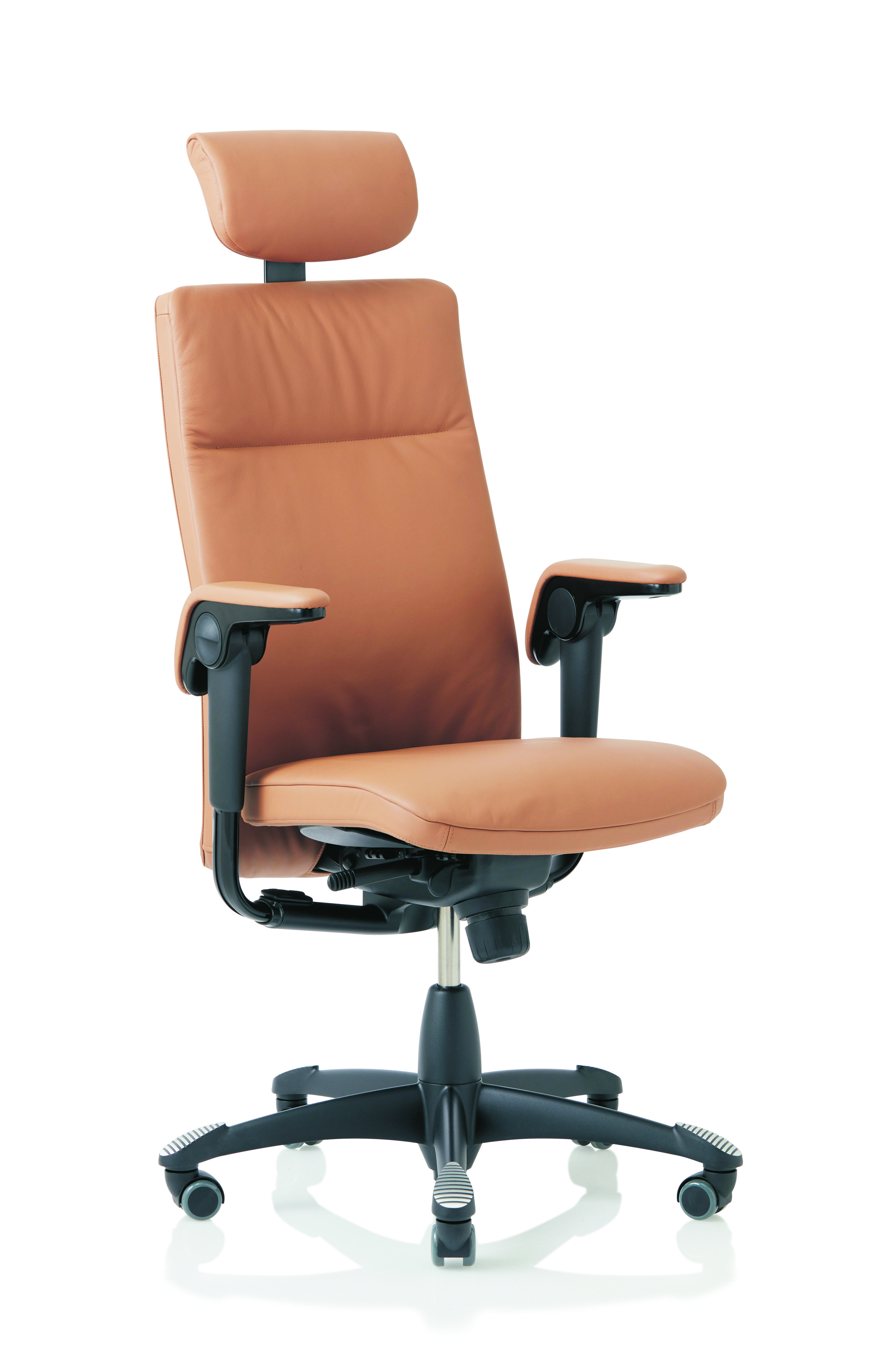 Style and design
HÅG Tribute is our most comfortable luxury task chair to date. Generously padded and wider, yet visually elegant.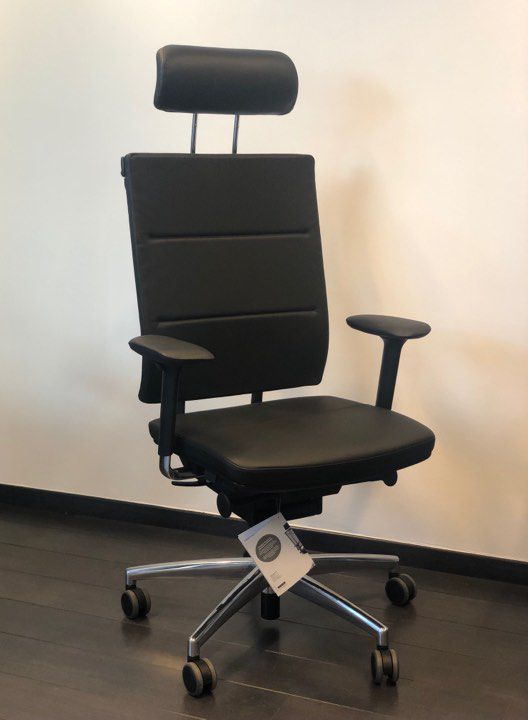 Ergonomically designed seat for ideal back support, including a very wide headrest worthy of an executive seat.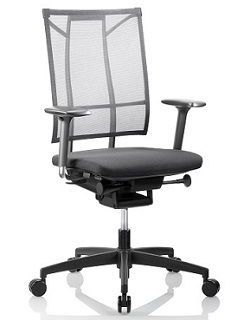 The functionality has a new name, GLIDE-TEC allows you to:
Work better (hands remain on the workstation)
Sit better (GLIDE-TEC supports your back in all positions)
Relax better (GLIDE-TEC prevents muscle tension)

​
Swivel chair with three-dimensional flexibility - versatile and adaptable.
Design: Greutmann Bolzern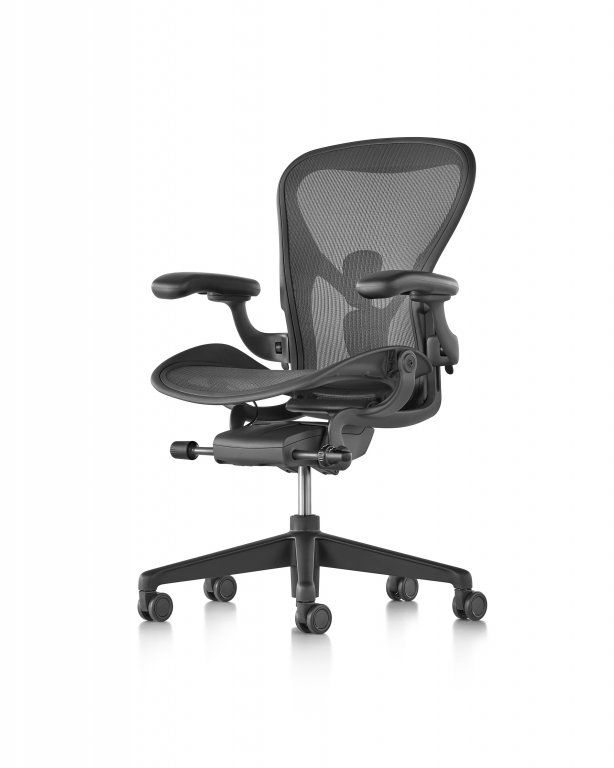 Herman Miller's Aeron Remastered revolutionises the way you sit in your office again
The Aeron chair, the iconic Herman Miller office chair, has undergone a major restyling (as with the automotive models). While the look is the same, all its components have been modernised with a view to comfort, ergonomic performance and environmental friendliness.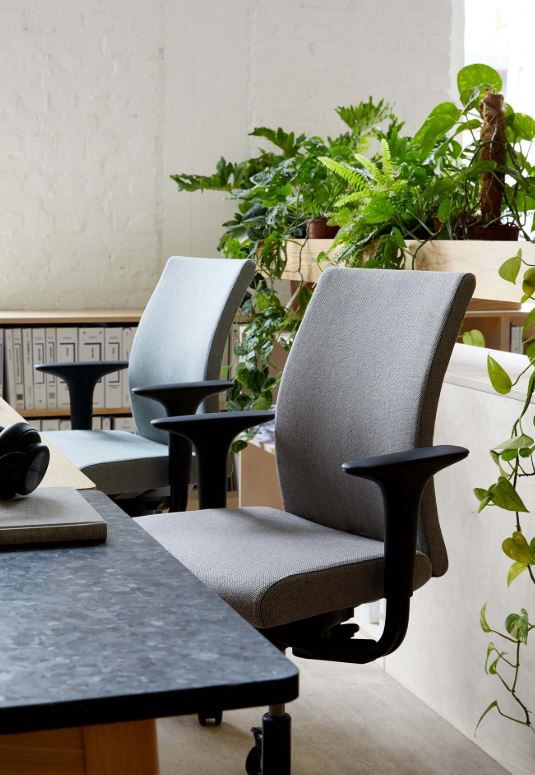 The HÅG Creed is based on the best of two original pioneers, the HÅG H04 and the HÅG H05, by legendary designer Peter Opsvik. It combines classic design with intelligent functionality, is easy to use and features our unique central tilting mechanism, HÅG in Balance®.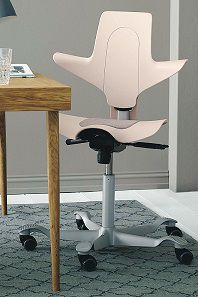 Sitting - standing
The Capisco PULS is the ultimate "saddle seat". Here in a simplified version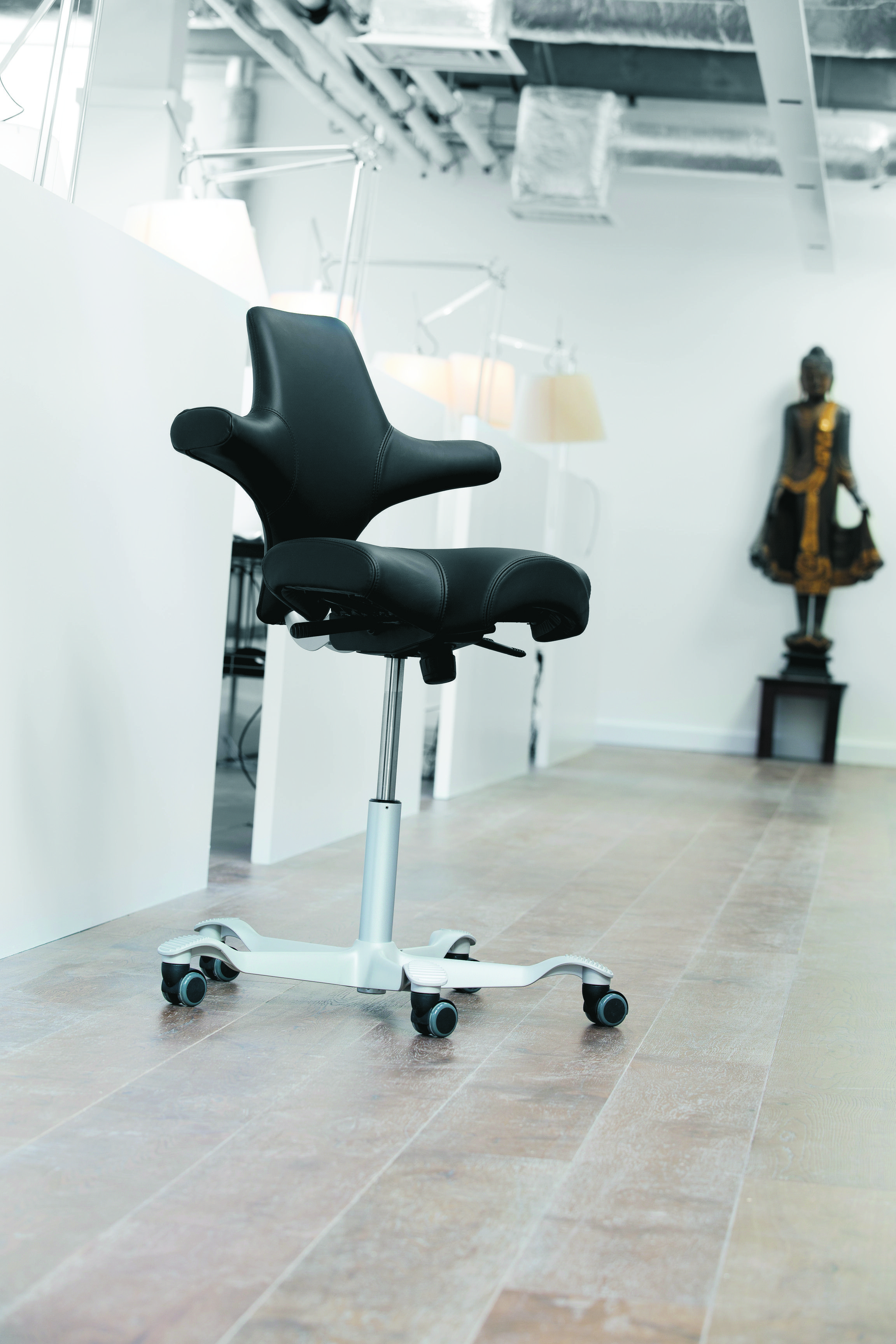 Sitting - standing
The Capisco is the ultimate "saddle seat". It has been specially designed to keep the body dynamic. The integrated tilt of the Capisco activates your blood circulation in the legs, which re-energises the whole body. You can concentrate better at work and you won't get tired.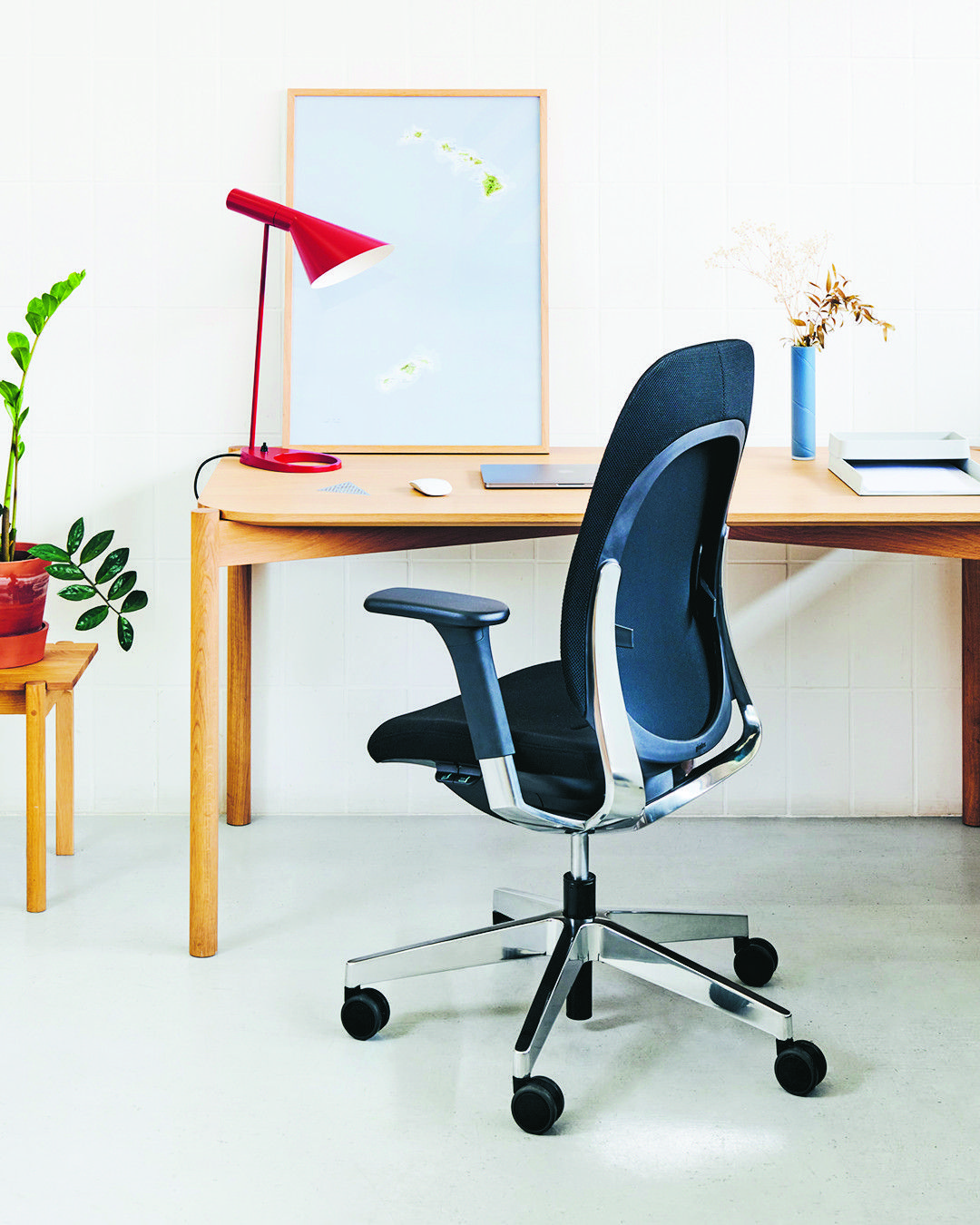 NEW Giroflex 40
The latest addition to the Giroflex brand!
The giroflex 40 has an elegant and dynamic feel, but with its ergonomic design it is primarily aimed at well-being. It is a continuation of the Giroflex chairs and, thanks to its simplified design, is more flexible and welcoming. This chair is suitable for both open spaces and private offices.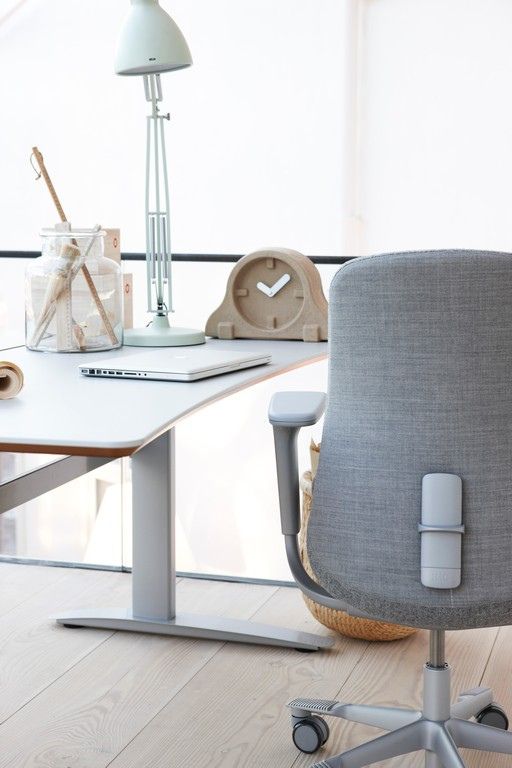 HAG SOFI
Be surprised by the inBalance movement (free forward and backward movement with adjustable intensity) as well as by the armrest adjustment that slides back and forth or adjusts in height.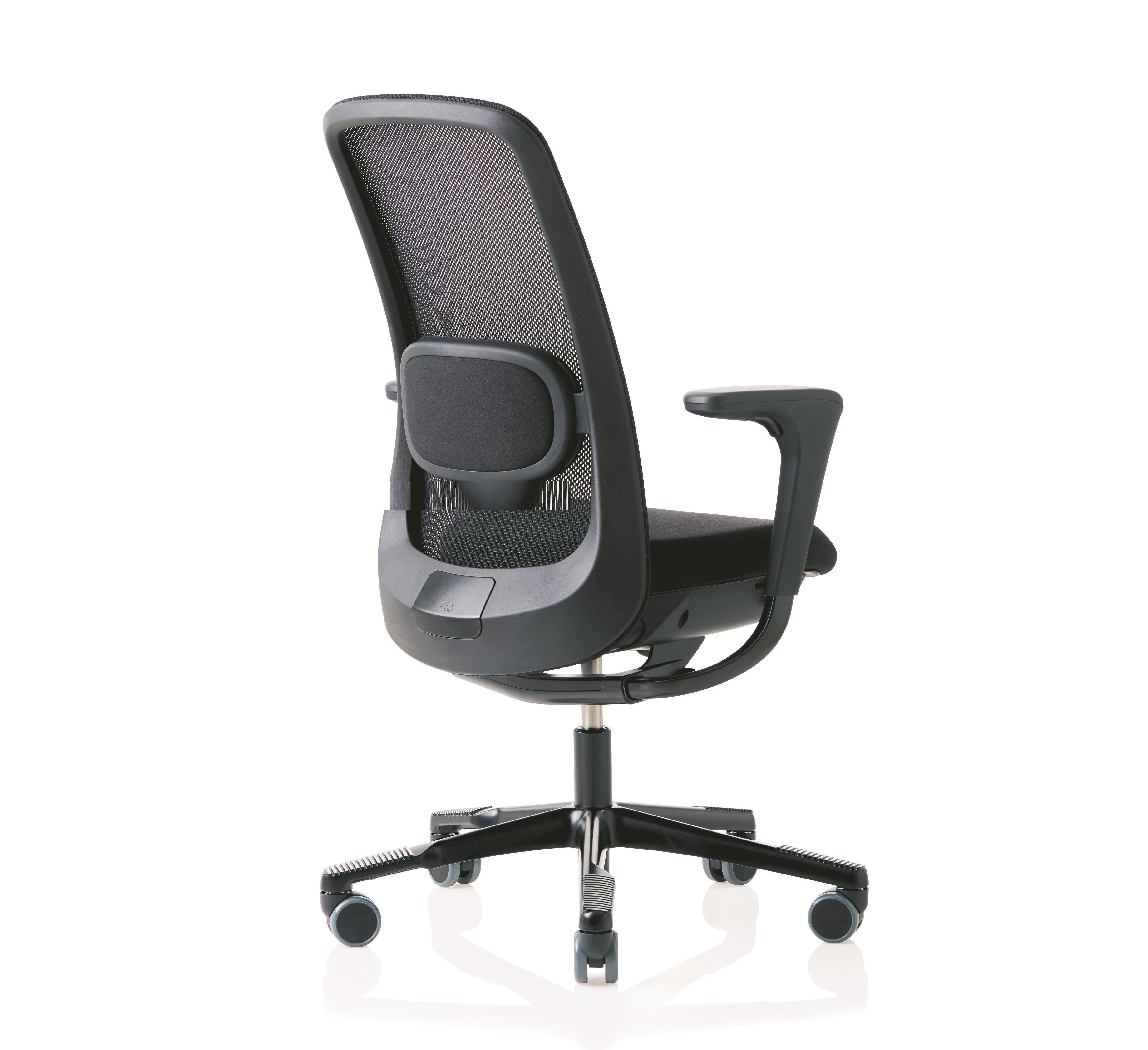 The HÅG SoFi 7500 is a mesh chair that offers you the benefits of a breathable and transparent backrest. HÅG in Balance® technology ensures a more subconscious movement.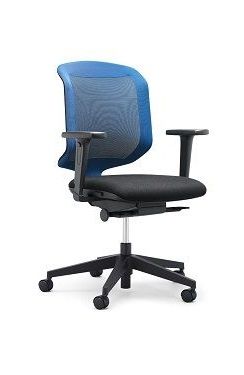 GIROFLEX 434
Le siège pivotant giroflex 434 convainc par un grand confort d'assise et un langage formel épuré. Le dossier du siège met en valeur la combinaison de tissu résille et d'originalité formelle typique de Giroflex, avec une ergonomie convaincante, un effort de tension parfait, transparent et avec fonctionnalité respirante.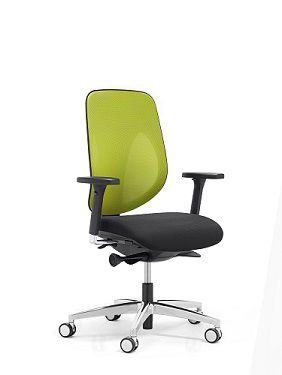 GIROFLEX 353
It adapts automatically to its users thanks to its innovative mechanism. The quality of the design and the comprehensive colour palette make this chair a decorative element for every environment. With a high Swiss manufacturing quality.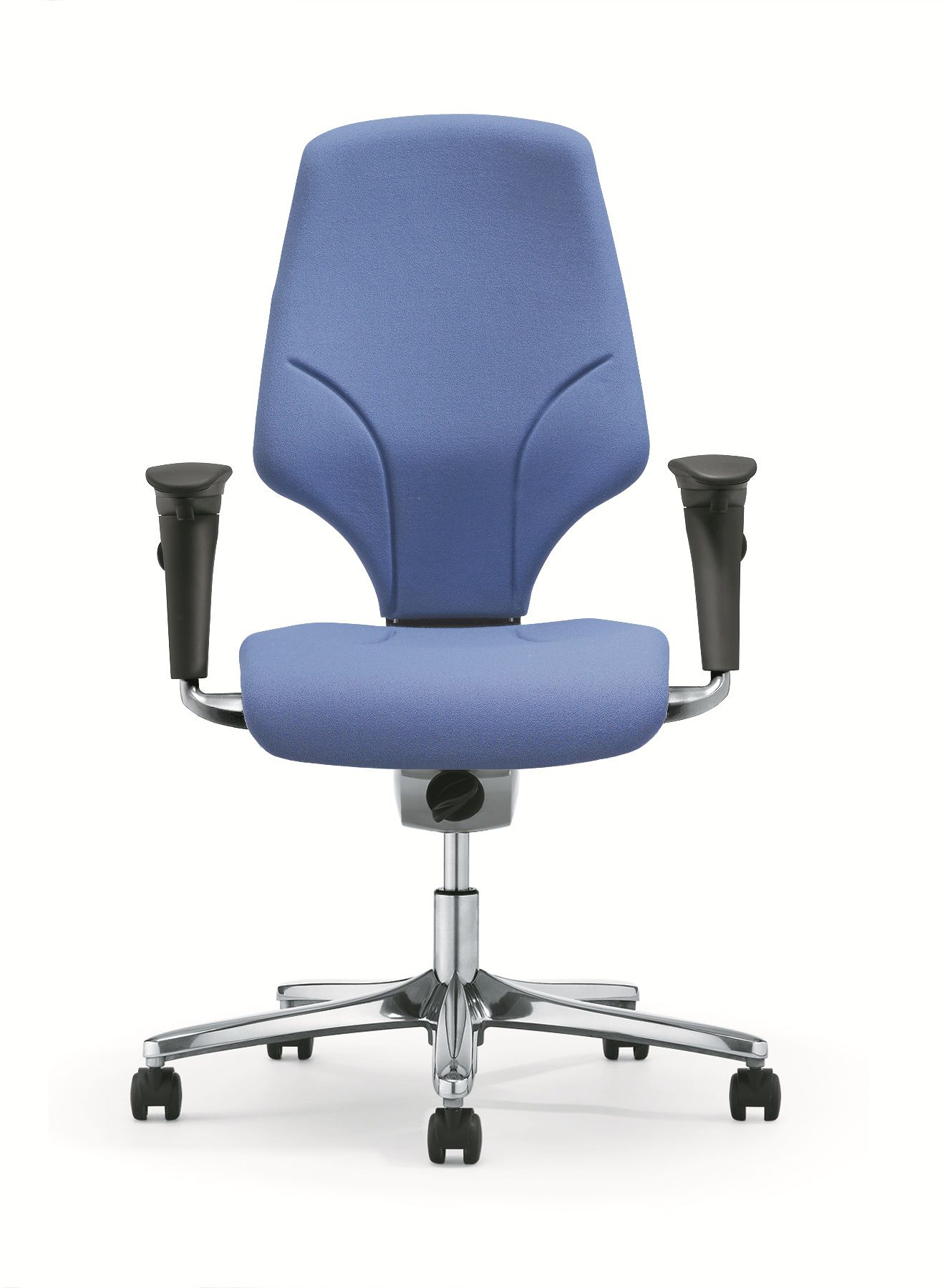 GIROFLEX 64
The 64 chair is equipped with the best synchronous mechanism of the brand. This classic office chair, which has been sold in millions worldwide, guarantees perfect seating comfort. Technical perfection and scientifically proven ergonomics ensure that the giroflex 64 swivel chairs offer optimum support in every sitting position. Designed by Walser Design
Chair available in different finishes. Four-legged base, five-star base on glides or castors. Seat and backrest in polypropylene or upholstered in fabric or eco-leather or mesh backrest, seat upholstered. Black, white or chrome frame. In 4-leg version, stackable up to 8-high.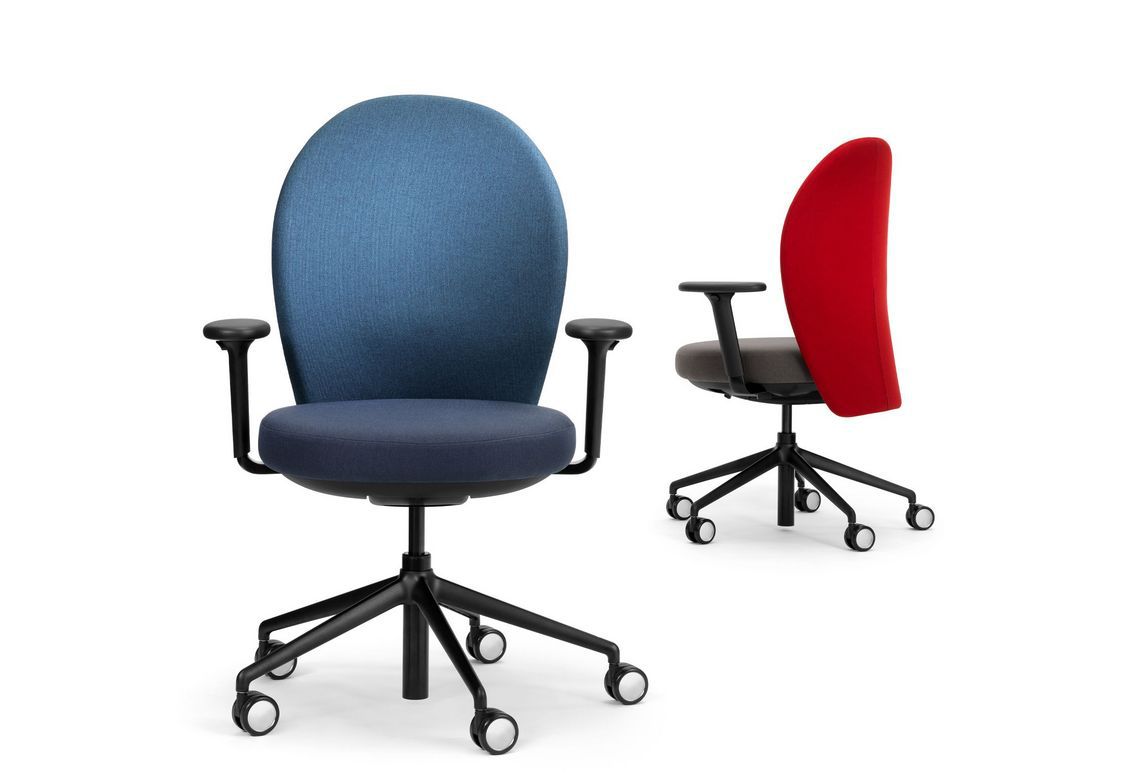 Comfortable task chair with integrated, invisible ergonomic features.
Design: Mathias Seiler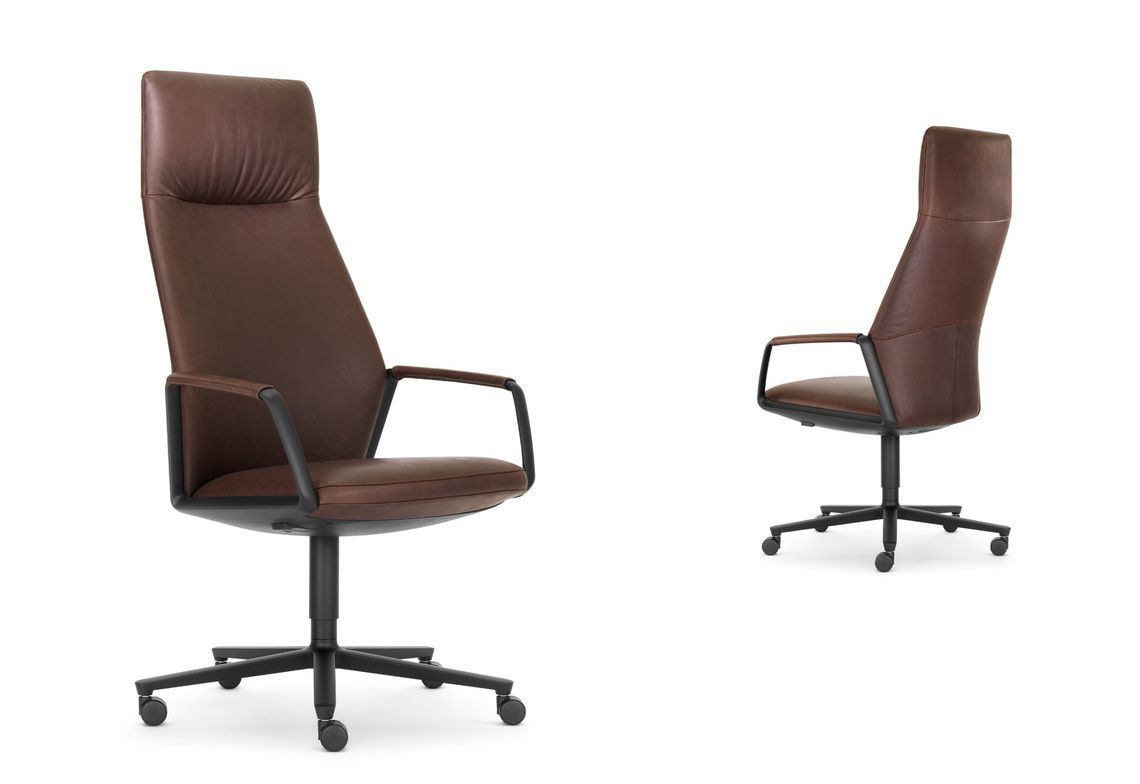 Eyla is a particularly comfortable chair for high-class conference rooms. The sophisticated upholstery conceals an innovative sliding mechanism in the seat. This allows the user to lean back comfortably and, by exerting pressure on the back, slide the seat forward. The return force is automatically adjusted to the user's weight. Thanks to its ease of use, Eyla is also ideal as a universal swivel chair in the office or home office.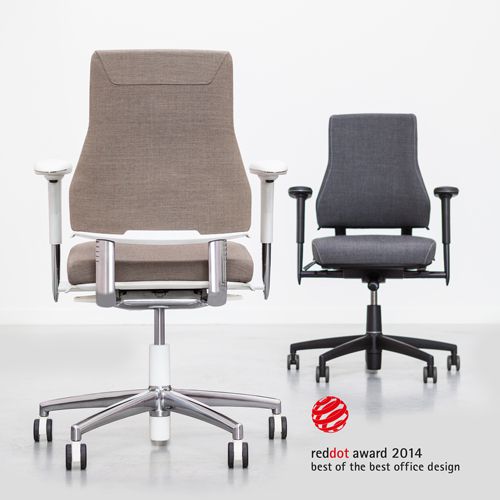 The first Axia chair was created in 1996 as a result of extensive research into biodynamics. Since then, almost 1,000,000 people have used an ergonomic Axia office chair and BMA Ergonomics has grown to become a European leader in the ergonomic office chair market (see also 24/7 chairs)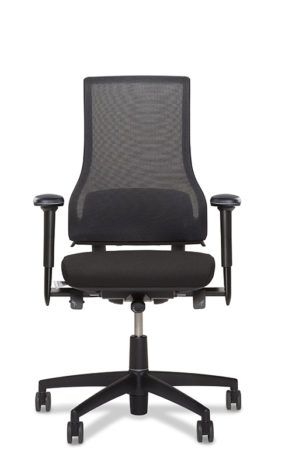 AXIA 2.5

The AXIA collection from BMA Ergonomics is completed with this mesh backrest version while keeping the arguments of its sister with an upholstered backrest. A mechanism based on the support of the lumbar zone and an adjustment adapted to each one.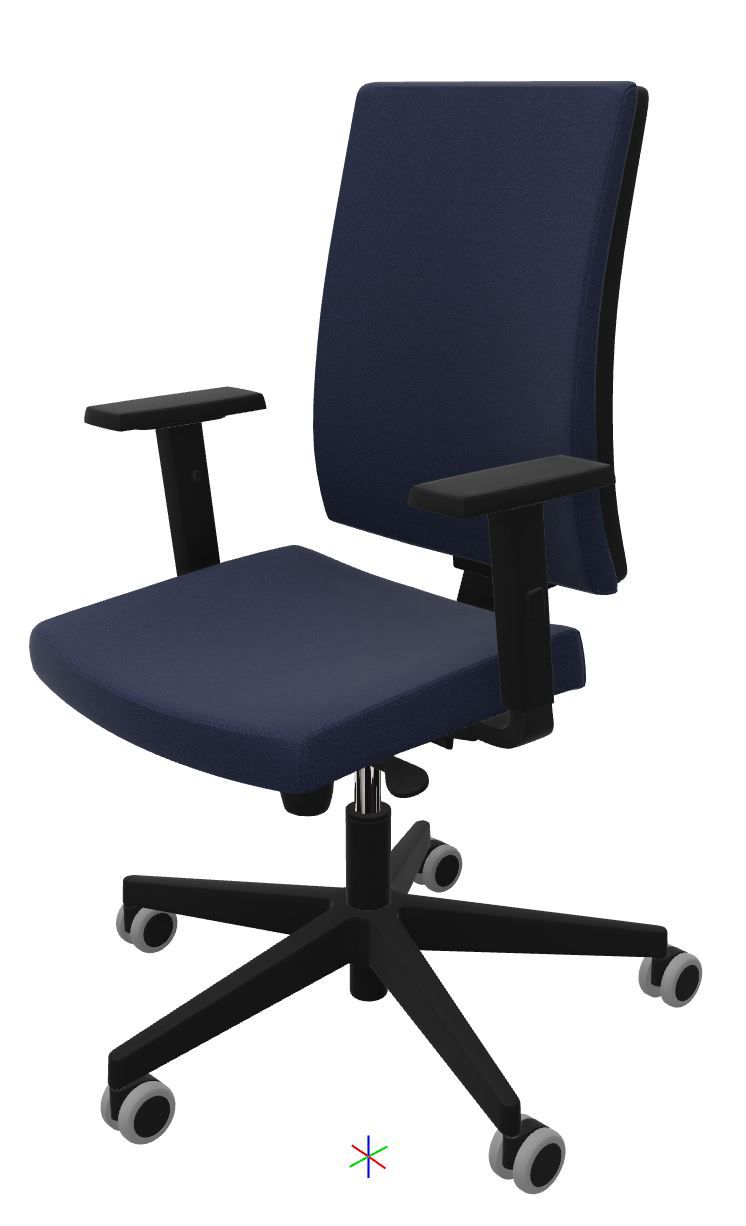 The Navigo chair can be equipped with three different mechanisms. When you are sitting on the chair, you can adjust the settings to your individual needs. This is particularly useful for current workstations or hot desking.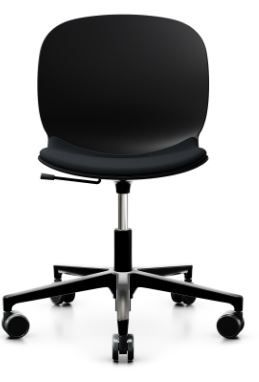 The RBM Noor star base is the ideal choice for users who work in a dynamic and creative environment and who need mobility. Perfect for busy environments such as open spaces and workrooms, this ergonomic chair is pure Scandinavian design on wheels. With this chair, you will not see your working day pass by.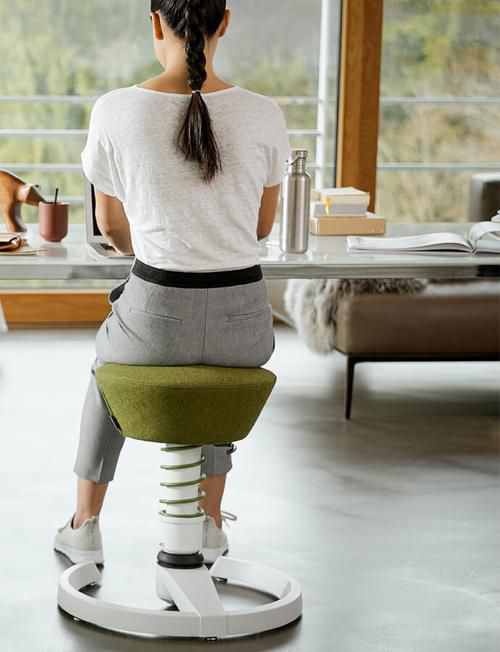 The Aeris Swopper Classic stool with castors is a design by Henner Jahns for Aeris. The Swopper stool is an anthracite version.

AXIA FOCUS 24/7
The focus24 chair is available with or without headrest, adjustable or folding armrests.
3 possible finishes: Camira 24/7, Victor Innovatex or leather.
Many options are available to personalise your 24/7 chair
BMA ERGONOMICS Secur24/7
The Secur24 chair is available in 3 different versions to suit all types of profiles who need a chair that is durable and used on a regular basis. Many options are available as well as a cut-out for carrying a weapon. This chair is mainly used in the security and call centre industry.
GIROFLEX 60 adapt
Whether in control rooms, police stations, call centres, airports or casinos: in places where people work 24 hours a day, 7 days a week, 24-hour chairs from Giroflex look good and do their job reliably and with confidence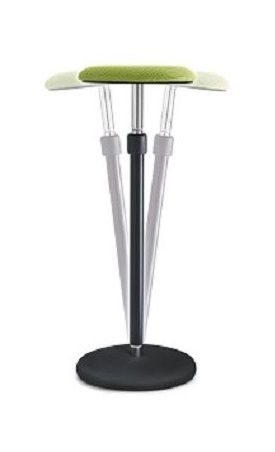 Standing aid
Sitting? Standing up? Or both!
The Sway sit-to-stand support is, as the name suggests, suitable for dynamic postures. It is not used in an upright position, but inclined to counterbalance the body weight. In one movement you can adjust the height of the seat to move from one posture to another. Sway allows you to work at any height and can be combined perfectly with standing desks.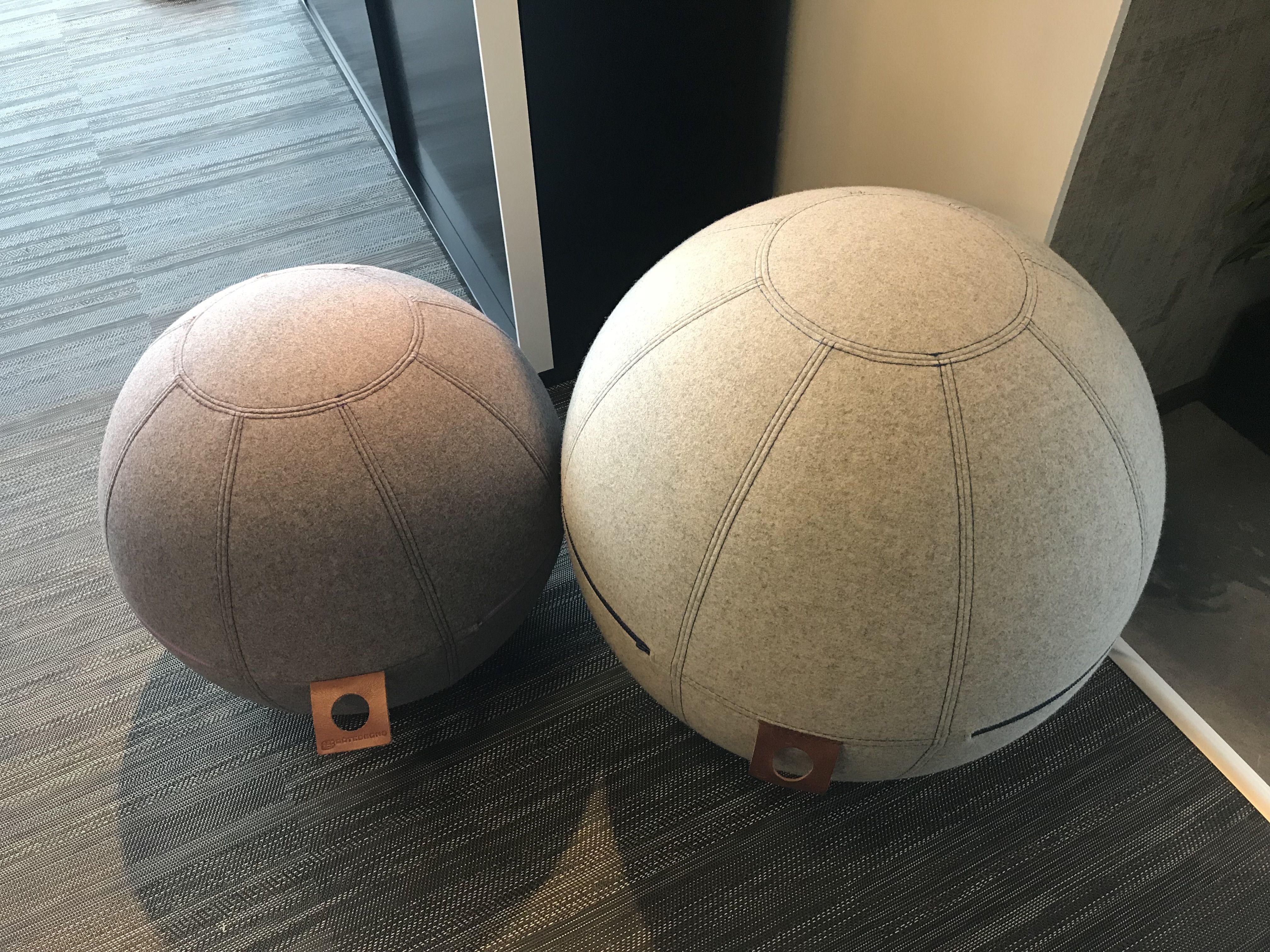 OFFICE BALLZ
A ball that thanks to its heavy base strengthens the muscle groups in the back and legs and keeps them active while you work. Office Ballz by Gotessons will help you to maintain a good posture of the spine and pelvis. Available in two sizes diam. 55 or 65cm. Perfect as a complement to your chair or for informal meeting spaces. Upholstered in Noble Lux fabric, artificial leather or Blazer. 7 pull-out colours.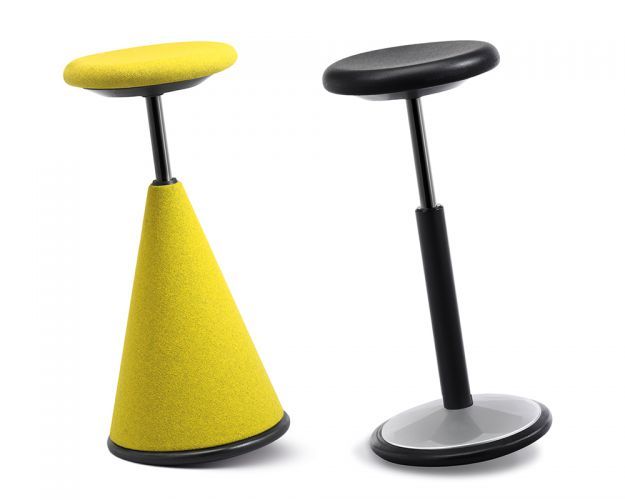 Giroflex 10
High stool for standing and sitting. The giroflex 10 high stool is the perfect tool for sit-stand work. Its well thought-out design offers a dynamic yet relaxed position. The seat height is easily adjustable.
The creative design of the giroflex 10 high stool makes it a carefully thought-out object to be admired. In addition, it requires you to constantly rebalance your position when sitting. This constant movement relieves the muscles and spine.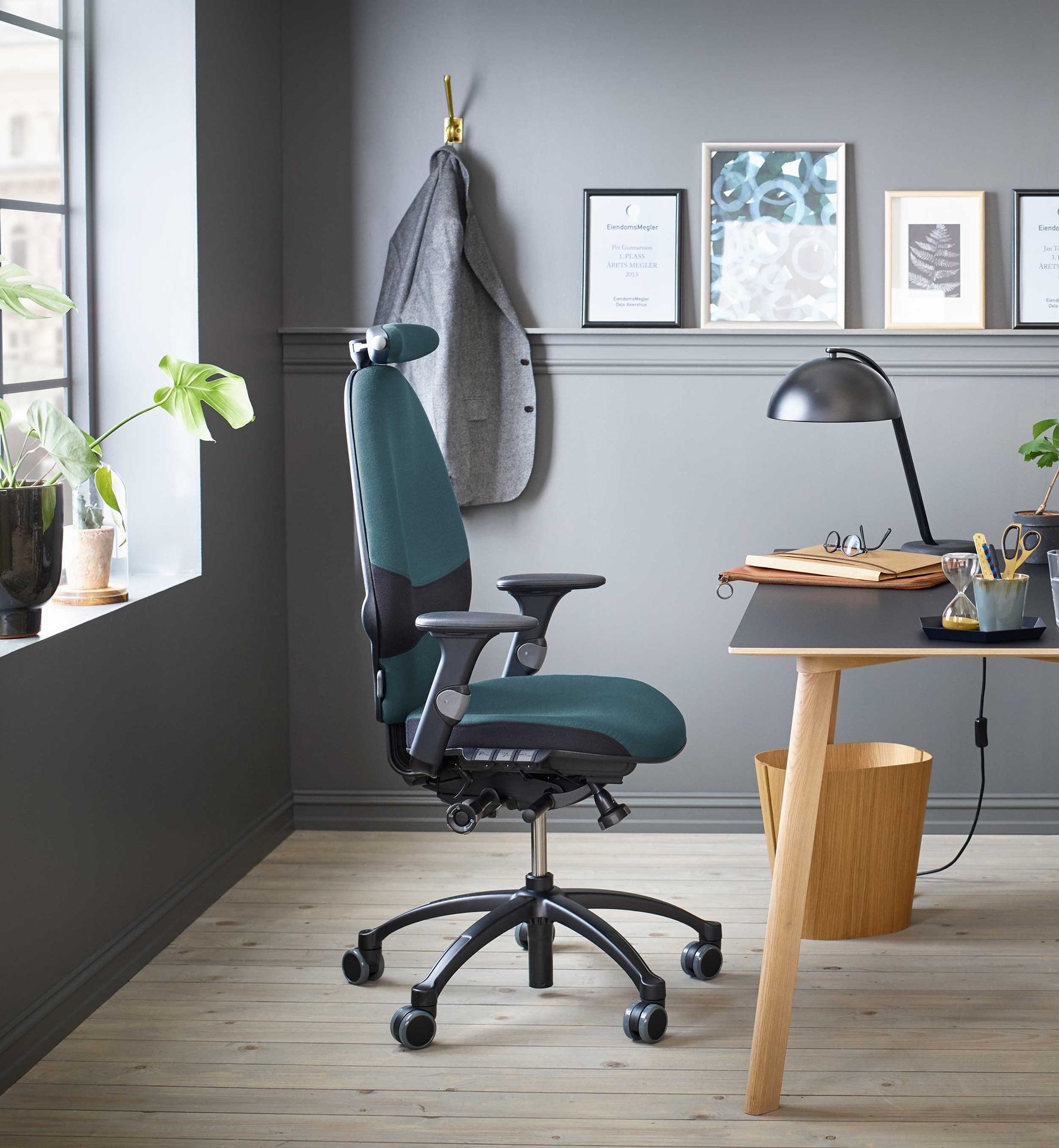 RH EXTEND 220
RH Extend 220 has a large backrest and is supplied as standard with castors for soft floors and a silver aluminium base. It can also be extended with a range of options and accessories. The adjustment controls are easy to understand, accessible and visible when seated.
RH Extend 220 has a reclining mechanism and a backrest that can be adjusted separately. The backrest can be precisely tilted to suit individual preferences, making it a unique, adjustable and user-friendly chair.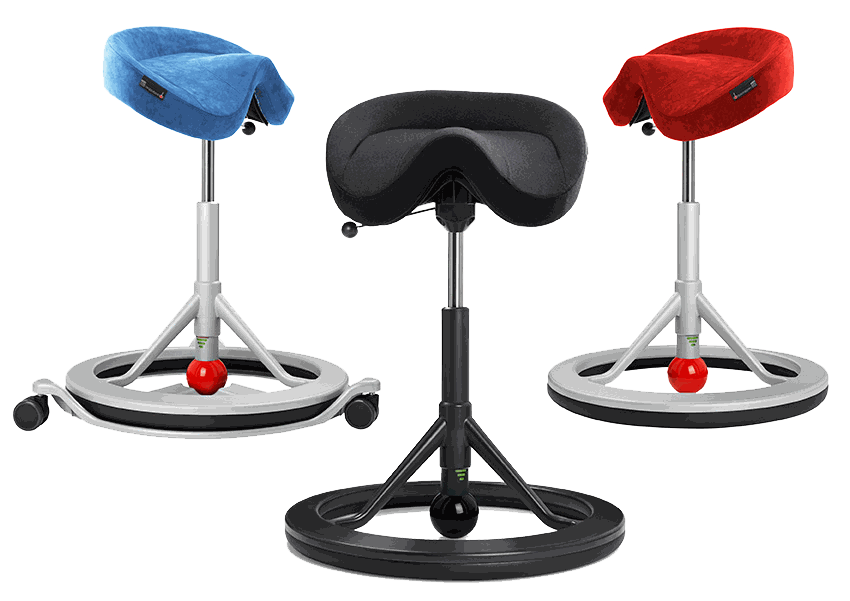 - Keep moving all day long by balancing on the adjustable Magic Ball.
- Energise your legs by completing your Backapp experience with the balance board.
- Bring more mobility to your day by adding wheels to your Backapp chair.